Providing Help and Assistance
to those with Low Vision
Education and Support for the Vision
Impaired
CSVR is a non-profit 501c3 medical clinic with
a community based board of directors.
Represented are, in addition to community
leaders and organizers, individuals with vision
loss and others active in the health care field.
We see people with any eye condition, of any
age, and with or without insurance coverage.
We are highly accessible and responsive. We
believe that we can provide help and
assistance to almost all with low vision, and
make every possible effort to do so. Read the
article below:
Vision Rehab Helps People With Low
Vision Navigate the World
Our Mission
To provide accessible, modern,
comprehensive, compassionate and
multidisciplinary care to those with vision
loss or blindness.
Message from our Doctors
Thank you for your interest in vision
rehabilitation and for visiting our web site.
Community Services for Vision Rehabilitation
(CSVR) helps all with any degree of vision
loss. We are highly accessible, responsive
and open to all. Our policies are designed to
make all of the resources, training, aids and
devices available to all who will benefit. We
offer individualized, personal care. We see
patients of any age, with any type or degree
of vision loss, and with or without medical
insurance or other coverage.
A large inventory of strong glasses, adaptive
aids and equipment are stocked at our
offices. A thorough initial evaluation of each
person allows us to choose the aids best
suited for the type and severity of vision loss,
preventing the purchase of inappropriate and
often costly devices. All can be demonstrated
in the office, and many can be used on a trial
basis. Our Occupational Therapist and other
office personnel can provide additional
training and back-up.
We welcome any and all questions,
comments and feedback.

Help for Veterans with
vision loss
Many veterans of military service do not
realize that help for their vision loss
may be available through the Veterans
Administration. Vision loss may be
covered, and much help obtained, even
if vision loss is not service connected.
Low vision resulting from macular
degeneration, diabetic eye disease,
glaucoma, etc. may be covered by the
VA.
MAKE A DONATION
CSVR is a non-profit 501c3 professional
medical organization with tax-exempt status.
Its primary support is through the generous
donations of individuals and foundations.
To Make a Donation
Donate securely using your credit card:
CSVR on the news with
Devon Walsh at WKRG TV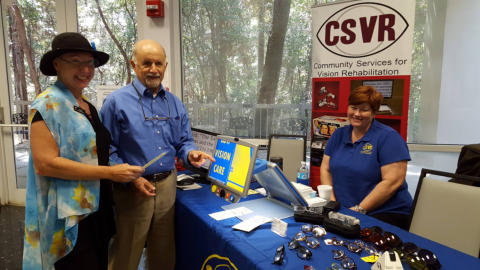 Casino Night Fundraiser April 4, 2019
May 2020:
Greetings from the Alabama
Healthcare Hall of Fame. On
behalf of its Board of Directors
it
is my privilege to announce that

Dr. Joe
Fontenot has been selected as a
member of the Alabama Healthcare
Hall of Fame, Class of 2020.
Dr.
Fontenot was chosen for this
distinguished honor because of
outstanding contributions and exemplary
service to healthcare throughout the
State of Alabama.
Dr. Catherine Elizabeth
(Beth) Coward
, 59, of
Fairhope, AL, passed away
on September 3, 2020, at
UAB Hospital.
Dr. Coward practiced
Ophthalmology and Oculoplastics in Foley
beginning in 1994 and was one of the first
female surgeons in Baldwin County. Beth was a
Board Certified Ophthalmologist and active in
the Baldwin County Medical Society. Dr. Coward
was known to her colleagues, residents, nurses
and patients as a compassionate, caring and
'talkative' physician with a great sense of humor.
Dr. Coward served on the board for the
Community Services for Vision Rehabilitation
where she was a faithful supporter.
Charles Robert
Salisbury
, born on May
1,1953, in Monroe,
Louisiana, and resident of
Mobile, Alabama, since
1984, passed away on
September 19, 2020.
Dr. Salisbury was a graduate of Tulane University
School of Medicine completing a residency in
Ophthalmology and a fellowship in
Vitreous/Retina also at Tulane. Dr. Salisbury
moved to Mobile in 1984 to begin a practice in
Ophthalmology and within a few years joined the
Premier Medical Group. He was humble, a true
gentleman and often described as a "prince of a
fella." Dr. Salisbury was a long-standing
member of board of Community Services for
Vision Rehabilitation. He was always supportive
and eager to help in any way.
CSVR will miss each of these Board Member and
will continue to have family members in our
thoughts and prayers.
Our Locations
251-476-4744
in Mobile
251-928-2888
in Daphne
251-721-1160
in Foley